The millennial generation has emerged as a dominant force in the housing market. According to the National Association of REALTORS' 2016 study of generational housing trends, millennials (or Generation Y) — those born between 1980 and 2000 — comprise the largest segment of the buyer market (35%), ahead of Generation X (26%), which covers those born between 1965 and 1979. Millennials have started to change the rules of the game in home buying, and we're here to help you become the MVP. So, what are the latest trends in design that millennials are looking for, and how can you incorporate them into your home?
Staying in is the new going out. Millennial home buyers love a night in, just as much as a night out. In an age where technology gives us everything at home, the allure to stay in is at an all time high. Companies like Uber Eats deliver food from popular restaurants to our front door, Netflix gives us hours of endless entertainment, and the right bottle of wine can persuade anyone to stay home.
Millennials are looking for open spaces that can easily transition from the kitchen or family room. We're also seeing a revival of the wet bar, with an ever so stylish take on the integrated drink stations of their predecessors in the 1970's. Finding unique and trendy ways to incorporate entertaining into the home is increasingly sure to set one product apart from another.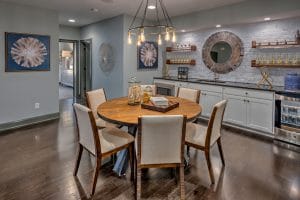 Also on the rise, telecommuting has grown 80% among millennials since 2005. A FlexJobs report shows that 60% of millennials feel that they would be more productive working at home. Maintaining the ideal life/work balance is achieved by having a few more hours at home.
Designing a dedicated work space that promotes productivity is the perfect way to stand out in the millennial marketplace. Revitalize a traditional study into a cool workspace with a bar cart in the corner for celebratory deals and a mounted TV that can keep homeowners up-to-date on the latest stock market activity and entertainment news.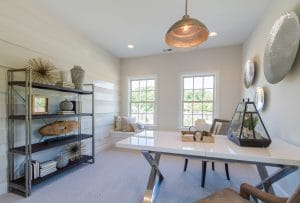 Builder grade isn't so basic anymore. Millennials are moving from apartments and condos that are featuring the best in materials and upgrades. Solid surface tops, stainless steel appliances, and the latest in bathroom and kitchen fixtures are features they have grown accustomed to. You can draw the millennial buyer with your material offerings.