The new year is an opportunity to start fresh – also with your interior design direction! One of the best ways to do that is with lighting.
The proper light in a room is essential to the overall feel of the space and has more impact than you might realize. Lighting output as well as fixture selection can really take your space from blah to bold. Take this kitchen for example: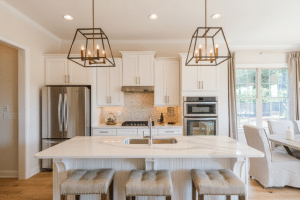 Typical island pendants might include small glass globes or pendant lights, but by selecting two larger lanterns the team at Haven Design Works made this kitchen feel larger and more dramatic. The dark metal of the lanterns contrasts with the rest of the white finishes to make this island the center of attention.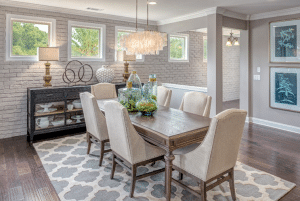 The dining room below features two larger lamps on the buffet and a rectangular capiz shell chandelier over the table. The lamps on the buffet are necessary as a secondary light source and help the space feel more cozy. The chandelier is made of an unexpected material that helps anchor the table in this open floor plan and completes this eclectic dining space in an elegant fashion.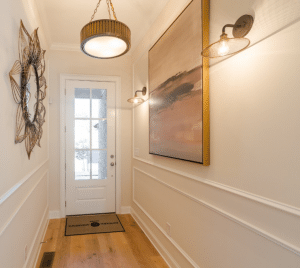 The overhead fixture and sconces in this foyer help the space feel more welcoming and open up an average narrow hallway entry. Since there was not enough room for a console table in this foyer, the sconces provide secondary soft lighting to highlight and ground the art in the space. The large mirror also helps to reflect the light in this room, making it feel more open and bright.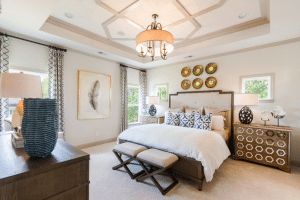 In this master bedroom, Haven Design Works deviated from using the typical ceiling fan in order to showcase the height of the room with the tray ceiling. Instead, we selected a fixture that features a drum shade to keep the space soft and inviting while the curved metal arms add interest. In a room this large we often select fixtures that are 30-36" wide to make sure that the scale and impact is appropriate.
So if in 2017 you are planning to update your home, think about your lighting selections. Adding accent and decorative lighting is so simple and will really transform your space!