Outdoor living in our homes has become a game-changing factor as our options for gathering away from home dwindled during the pandemic. Many homeowners found they liked it and rediscovered the value of increased family time and slower pace, prompting them to upgrade not only their interior spaces, but outdoor living areas as well. This hot trend shows no signs of reversing in 2021.
"During the pandemic, we remembered how much we love our homes, our neighbors and spending time with our kids playing outside," said Donna Mathis, owner of Haven Design Works. "People are looking to embrace the outdoors by adding enjoyable outdoor spaces that increase livable square footage."
The addition of outdoor kitchens is wildly popular in 2021 and ranges from adding modular, mobile elements all the way to full-service outdoor kitchens from which homeowners can entertain in their own backyard. Adding pergolas, shade structures or even brightly colored umbrellas provide shelter from the sun while adding visual interest. Colorful tile accents or rugs soften the area and give the outdoor kitchen character and style.
Homeowners also are installing technology in their outdoor spaces so they can relax to good music or show a movie on the big screen. Furniture trends are leaning toward more casual and comfortable seating and chairs that convert into tables for movie-watching or simple pizza nights with family and friends. Including firepits, misting fan systems or heat lamps extends the comfort of outdoor spaces and makes it possible to use in all four seasons.
Edible gardens have made a comeback as families think about ways to live more sustainably and are attracted to the idea of eating food they grow themselves. Gardens can range from simple container herb gardens to robust, in-ground garden beds that incorporate composting and feature arbors and seating.
Another way to expand the home living space is with outdoor sheds. These small, detached spaces are being utilized as home offices, play forts for children or "she sheds." Multifunctional backyard sheds are a great way to maximize and creatively use every inch of space in the yard.
And backyards are not the only outdoor spaces receiving attention. The front yard — and the front porch in particular — is one of the hottest new social spots, perfect for interacting with the neighbors whom people got to know better during the pandemic. Sipping cocktails on the front porch with the neighbors while the kids are playing together in the street is the new normal.
"In a way, we're going back in time but bringing new technology with us," Donna said. "We're spending more quality time with family and friends in our homes and no longer leading the busy, hectic lives we did pre-pandemic. More people have discovered that they enjoy entertaining at home and creating their own oasis, whether they have a small or large outdoor space to work with. If you need additional living spaces in your home, look outside and use your imagination!"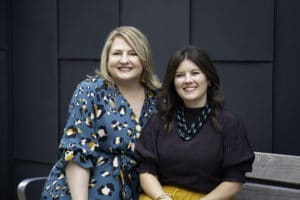 Interior designers Donna Mathis and Lisa Giles formed Haven Design Works in 2013 with an eye to creating a firm with the systems and organizational processes of a much larger company and the passionate attention to detail of a small boutique firm. Donna and Lisa found JOY in leading Haven Design Works through the challenges of 2020 and into a new year, and they look forward to bringing joy into their designs.