Everyone across the globe has experienced the struggles, grief and challenges of 2020 in a thousand different ways. But there were also moments of finding JOY. As we look forward to a new year and a new start, Haven Design Works reflects on the JOY they found as a team.
Donna: First of all, we're so grateful for all our customers! In the beginning of the pandemic, they showed us a tremendous amount of grace and patience as we all worked together to figure out how to do our work safely.
Lisa: Absolutely! We really walked alongside our clients, navigating what the next project would look like. Our team did a good job of keeping the business moving forward when there was the initial pause in installations. Our clients were very understanding and gave us the space to pivot and establish a new way of working that ensured everyone was safe.
Donna: Builders are confident, and building is booming again. We love that we were able to get through that early lull together, and I think it strengthened our relationships. Our business has definitely grown and changed this year. We were able to expand our client base in challenging times by thinking outside the box and reaching for new opportunities. Our team made that possible by putting in the effort to creatively address the clients' needs.
Lisa: Yes! Our team has been amazing. Even as we've all had to adjust to working from home, we're still working as a team and the quality of work we're producing has only gotten better! Our designers are on the forefront of the trends, and we're creating models and sales centers that are truly forward-thinking. There's so much JOY to be found in working with a group who shares the same goals, and who care about the end results just as much as we do.
Donna: Agreed, and I have found a lot of JOY and gratitude for our partnership, Lisa. We've navigated this situation together, and I think we've done a good job at looking at all sides and viewpoints as we find new ways to work. There are ebbs and flows in any business, and we find ways to pick each other up. The camaraderie of our team and the willingness of everyone to work together and adapt to the ever-changing circumstances has been a JOY to watch.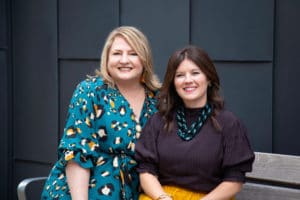 Interior designers Donna Mathis and Lisa Giles formed Haven Design Works in 2013 with an eye to creating a firm with the systems and organizational processes of a much larger company and the passionate attention to detail of a small boutique firm. Donna and Lisa have found JOY in leading Haven Design Works through 2020, and they are grateful for the flexibility, resilience and grace they experienced from Haven's team and clients.