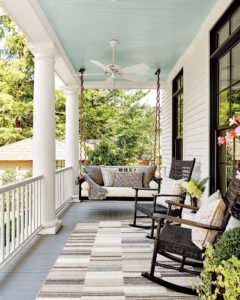 The COVID-19 pandemic is touching every corner of our lives, and how we live in our homes is no exception. Pre-pandemic, our homes acted as hubs that we returned to after busily living a large share of our lives out in the community. Now, we're living more of our lives at home and spending more time than ever before in our houses. As a result, we're seeing interesting trends emerge from the front porch to the pantry to the home office, and most of them are centered on connecting safely with our families, neighbors and co-workers.
Front Porch Sitting. The trend toward outdoor living is moving from the backyard to the front porch. People want to see life happening around them and socialize with their neighbors safely. Many are finding that without long commutes and lots of extracurricular activities, they actually have more time to spend outside. "In some ways, we're going back in time," Lisa said. "Our kids are playing old fashioned games like Simon Says over the driveway with neighbors in the evenings, and we're making the front porch a comfortable place to spend time at the end of the day."
Bringing Work Home. As we noted in our May blog, Reinventing Today's Home Office, people are recognizing the need for a good home working environment, and as school resumes – in many cases virtually – it's also become important to carve out a quiet and motivating place for kids to work. People are now looking for attractive, long-term solutions to what was treated in the beginning as a temporary situation.
Is Everyone Baking Bread? As we're spending more time in the kitchen cooking at home instead of eating out, we're reimagining our kitchens and pantries. There is a desire to optimize the function of the kitchen as well as to make room for all the cooks in the kitchen as we connect over preparing food. The pandemic has revealed a desire for greater self-sufficiency, which has led to more thoughtful storage in pantries and throughout the home.
Farewell to "Look, but Don't Touch." Buyers are reassessing how they actually live in their homes when considering design. They still want a luxe vibe and detailed design, but the end-product must be comfortable and livable. The design should serve how they want to live in their homes, and the enduring focus is connecting with and spending time with their families.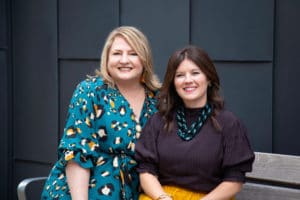 Interior designers Donna Mathis and Lisa Giles formed Haven Design Works in 2013 with an eye to creating a firm with the systems and organizational processes of a much larger company and the passionate attention to detail of a small boutique firm. Lisa says the pandemic has moved much of her family life to the front porch, and they are loving it.