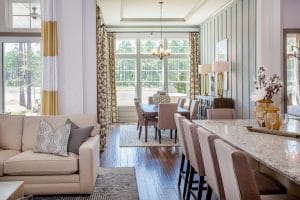 During the National Association of Home Builders' International Builders Show (IBS) in Orlando in January 2017, Haven Design Works was recognized nationally at the 2017 Best of 55+ Housing Awards ceremony.
Haven Design Works won two Silver awards in the Best 55+ Interior Design of a Model category for Killarney II Loft Model and the Ravenna Model, both at Four Seasons at Lakes of Cane Bay in Summerville, South Carolina.
Haven Design Works completed the interior design and installation of nine model homes at the Model Park in K. Hovnanian's® Four Seasons at Lakes of Cane Bay in record time in order to meet the national builder's VIP sales event in June 2016. During the first weekend, 21 homes were sold.
From inspiration to installation, the project took one year, while the actual installation of all nine model homes was completed in just one week, according to Donna Mathis, president and owner of Haven Design Works.
Distinct Designs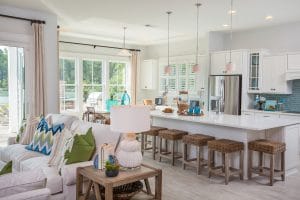 "We started working on the project in May of 2015. We presented initial concepts for the model park and started creating the story and life of the community. The evolution of the completed project grew as we researched the local lifestyles and activities in the areas Charleston and Summerville areas," explains Mathis. "We worked hard to make sure that each model had its own identity and that our distinct designs represented the different buyers and lifestyles in this community. 'Stay in your design lane' became a theme at our office during the design process."
Haven Design Works is known for its sophisticated use of color and careful, innovative space planning. Different palettes appeal to targeted homebuyers who can then more easily imagine living in the new homes.
To learn more about the award-winning work by Haven Design Works, please visit www.havendesignworks.com or call 678-878-2491.